The growing power of social media influencers and bloggers has been revealed by new research from Dubai-based PR agency BPG Cohn & Wolfe and YouGov showing that 71% of UAE residents aged 18-40 are happy to take advice online before purchasing.
Beauty, fashion and food are the areas where residents are most likely to turn to leading social media influencers for recommendations according to the findings amongst 1,000 men and women across the country.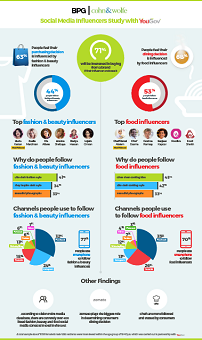 Tech-savvy residents used their smartphones to follow their favourite influencers with 68% of those polled admitting that where they eat out can be prompted by online recommendations or reviews and 63% more likely to buy fashion or beauty products based on what these influencers might say.
BPG Cohn & Wolfe PR Director, Consumer Practice, Taghreed Oraibi managed the research process and said: "We are working closer than ever with bloggers and influencers and wanted to find out just how influential they have become in a country that is more switched on and digital than many all over the world.
"The results have clearly shown that companies now have to take these online influencers seriously and listen to what they have to say and find creative and engaging ways to work with them to tell their story and reach customers in that vital 18-40 demographic.
"BPG Cohn & Wolfe has identified the rise in influence of bloggers for some time and this led to commissioning the research to assess just how widespread their influence is and in what areas they have the most impact."
Social Media Influencer Opinion - Highly Regarded by UAE Residents
The survey shows that smartphones, as may be expected, are the most popular device used by individuals to follow influencers online.
Facebook proved to be the number one platform used to follow social media influencers overall. A total of 35% of individuals said they followed food influencers on Facebook and 26% on YouTube, while fashion and beauty influencers were followed highly on Facebook 32% followed by Instagram 24%.
The extensive use of more visually appealing online mediums is however not unexpected as so many beauty, fashion and food influencers are keen to showcase images of the products they have reviewed, experienced or are personally recommending.
Top Fashion & Beauty Social Media Influencers
The study found that the most popular fashion and beauty social media influencers amongst UAE residents were Huda Kattan, Joelle Mardinian, Ola Alfares, Lojain Omran, and Amina Shelbaya with some of these individuals having online followings that run into millions of people.
Among the major reasons motivating individuals to follow these popular influencers were their personal style, beautiful photographs and ability to inspire other's fashion and beauty style.
Other leading fashion and beauty influencers who were rated very highly in the study included Nadya Hasan (The Fierce Diaries) and Fouz Alfahad (The Real Fouz).
Top Food Social Media Influencers
When it comes to food it seems that UAE residents are still a little star struck with celebrity Chefs including the UAE's own television cooking star Manal Alalem and Osama Al Sayed in addition to Gordon Ramsay and Sanjeev Kapoor who were rated as the most trust worthy social influencers followed by food critics and bloggers like Foodiva and the Food Sheikh.
According to the survey, Reviews & listings on Zomato - the restaurant and food finder application – also play a major role when it comes to making decisions on what is the hottest new restaurant or dish to try.
Social Media Influencers Become Increasingly Powerful Brand Ambassadors
There are currently over 200 listed fashion and beauty social media contacts and over 200 food contacts in the UAE who are classified as bloggers on Cision Point media database in the UAE.
But as Taghreed Oraibi explains: "Today Social Media Influencers are not necessarily just bloggers who use 'Words' on traditional discussion or information sites. You now find new terms being used in the industry such as 'Instagrammers, YouTubers, and SnapChatters to define those who use a diverse range of different social media tools to influence consumer decisions through content that is often generated as videos, captioned images or graphics."
"As communication strategists and adviser, we need to be able to identify social media influencers who share common interests or viewpoints with those of our clients. This will enable us to maximise the impact they have in reaching their target audience and deliver messages in a digital and credible manner."
Research for this study was conducted online using YouGov's Omnibus online research service amongst 1,008 UAE residents aged 18 to 40 between 20th - 27th June 2016. Data is broadly representative of the online adult population aged 18-40 in the UAE.